NEW TRIGGER FIGURES APRIL 2020 NOW INCORPORATED INTO PG9
PGdebt 9 will update the new CFS triggers automatically in the week commencing 13 April 2019, the actual date depends on your system settings and useage .
The process is automatic, there is no need to do anything or contact Paul. The new figures take effect on all NEW cases as soon as they are downloaded.
NB: All existing cases will retain their existing older triggers, even after the new figures are in place, but if you wish, you can change an existing client to the latest figures on an individual basis by RIGHT clicking anywhere on the Income/Expenditure window and choosing the appropriate popup menu item.
There is also an item on the FS menu. NB. Take care as this change is irreversible for that client.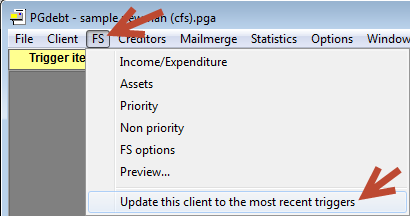 If you are concerned, you can check the status of your triggers by observing the information in the PG9 "about" box. Click "About" on the top menu.
The new 2020 update is No. 19, effective from April 13 2019 and the latest CFS version is shown as 202004 (in PG terminology)

PG5/6/7 do not use the CFS trigger system at all, so nothing will change.
PG8 and 8X use a system which is many many years out of date and will not be updated as MAT no longer supports their version.
RE-INSTALLING PG9
Please be aware that the PG9 installation file downloads on the website are no longer available, you cannot re-install PG9.